Isle of Man trip with Discover Diving, Port St. Mary
Friday 29th April to Monday 2nd May 2022
So finally, the planned trip that was scheduled for May Bank Holiday 2020 with Discover Diving got underway. Only two years later than planned due to all the restrictions put into place due to the outbreak of Covid when it appeared that the whole world was put on hold. The idea behind this trip when it was first conceived was to take a group of newly qualified divers along with some more experienced members and give them an introduction to a weekend hard boat diving.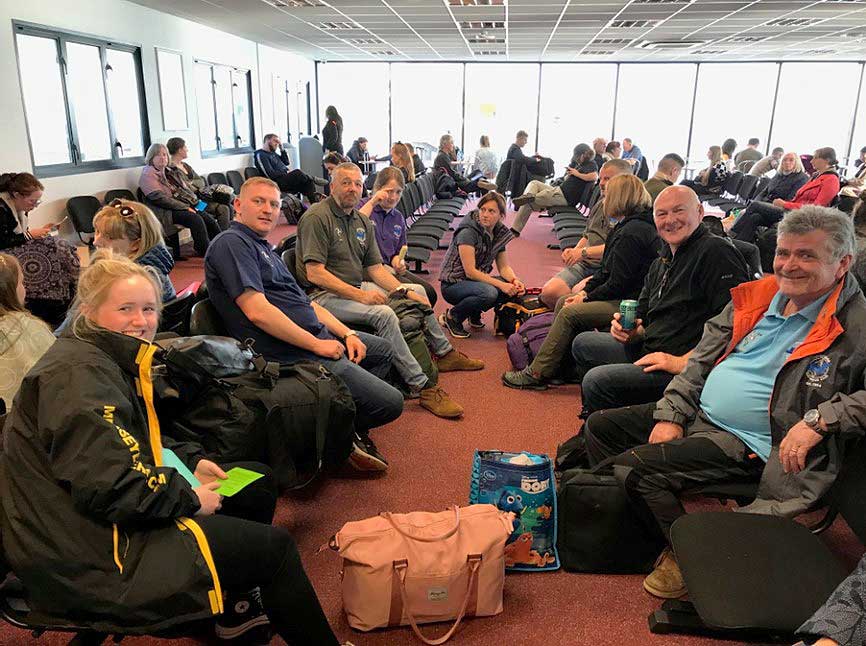 One change to our plans was that there was no early sailing on the day of departure so we had to catch the 7.30pm ferry from Liverpool to Douglas which meant that we would arrive in Douglas at 10.15pm.
When we arrived in Douglas, Steve and Michelle from Discover Diving were waiting for us to transport us to our base for the weekend in Port St Mary. Our accommodation was on the top floor of their house cum dive shop cum bunkhouse. I'm sure the stairs are getting steeper or is it me and the rest of us for that matter just getting older lol?
We had a little bit of form filling to do but nothing too complicated. We added our medical forms to the pile of completed forms and that was basically us for the night. I think that we all had one drink before retiring to our respective rooms which had already been allocated. Six gents in the large bedroom and four ladies in the smaller bedroom with one lucky couple getting their own double room. I don't think many of us even remember putting their heads on their pillows that first night! Thankfully it wasn't too early a start the next day.
Saturday morning dawned. The weather wasn't as bad as we had feared it would be when we had checked the forecast before leaving Liverpool. Steve had said it would be fine and therefore it was time to get ready to go diving. A good few of us were up early especially our intrepid breakfast cookie Tony Smith who was aided during the weekend by Chris and Kate Mills. Tony does a fair bacon and sausage sandwich. After a leisurely breakfast, we all headed down to the shop. Now a word of warning to everyone. Be sure that you take everything you need when you go downstairs. You have been warned!
Once we were all assembled by the minibus, we were shown the ropes by Michelle. Each diver was given a number from one to twelve at the start of the weekend. The twelve pairs of cylinders were also one to twelve so we all knew which cylinders were ours. A nice easy system to follow. There were also twelve bags of weights numbered the same way.
We loaded all the dive kit onto the new (for us) minibus that Steve and Michelle now own. Five divers were also loaded onto the bus and it headed off for the harbour where all the kit was unloaded so that the minibus could return to the shop to have all the cylinders loaded on board as well as the remaining divers.
Once at the harbour, all the necessary kit plus one cylinder per diver was then loaded onto the boat. We would be returning to harbour after the first dive to change our cylinders. When we were all aboard, Michelle gave us a thorough boat briefing. Once this had been completed, we were left in the capable hands of our skipper Steve and his able assistant Kathryn for the day.
The first dive of the day was to be in Bay Fine. This is a scenic dive which included a wall. This dive was an easy meander along a wall which we kept on our right hand side but occasionally swimming away from it to head through gullies created by large rocks and boulders. There were plenty of Wrasse to be seen, the two dominant species being Cuckoo and Ballan, also Coalfish and Pollack plus myriads of juveniles of different species as well as various Starfish, Urchins, Lobsters and crabs. My buddy Hannah and I came across other buddy pairs during the dive and eventually bumped into her dad Shaun with Garry at the end of the dive. After forty minutes, both pairs decided to finish their dives and Garry and I deployed our DSMB's and we all started our ascents. A three minute safety stop was completed before surfacing. When we were back on board, Kathryn served us tea, coffee and cake. What more could we ask for?
So our first dive was over and we headed back for harbour so that we could unload our used cylinders and pick the full ones up for the second dive.
The second dive of the day was to be a site named Garden Rock. The name came about as it's a huge rock about the size of a bungalow, sitting on a sandy sea bed. There was a slight run which some of the less experienced divers weren't too comfortable with but most of them still managed thirty five minutes or so. Once the dive was over, we headed back for the harbour. Steve informed everyone that kit such as suits, BC's, wings etcetera could be left on board overnight and for us just to take what was necessary back to the flat.
It was a very relaxed atmosphere that night. The beers and bottles of vino were opened and everyone congregated in the dining area for drinks (in moderation of course!) to chat about their day. Both the highlights and the lowlights were discussed as is usual. My lowlight was the fact that I had somehow managed to trap the cable from my thermo valve in my zip. I didn't spot it so ended up doing the first dive getting gradually wetter and wetter and colder and colder. It was the first time that I had dived without my heated vest so hadn't realised that this could happen. Serious schoolboy error that won't ever be repeated! Until the next time lol! I still managed a forty five minute dive though.
As for dinner that evening, some of us went to the Fish & Chip shop and some stayed in to enjoy a sumptuous cheese and chorizo sausage platter supplied by Shaun.
The cheese and sausage was supposed to be a pre dinner snack but by the time we had demolished it, some of us were too full to consider going out for any more food!
We did however still have room for a drink or two so a bunch of us headed down the road to the local pub The Albert a couple. All in moderation as ever!
So after a couple of drinks, most of us ambled back to our accommodation and bed. I'll bet that quite a few of us don't recall our heads hitting our pillows that night!
Sunday morning dawned and the weather was looking a little bit grim. The sea state wasn't looking ideal and the rain was quite heavy.
Thankfully, we were scheduled to start an hour later than we did on Saturday so breakfast was a very leisurely affair. As promised, Tony who was ably assisted each day by either Chris or Kate supplied sausage and bacon butties for those who wanted them. Plus tea and coffee of course.
We met Michelle and Steve down at the shop for 9.00am where we were given the dive details for the day. The schedule was to be a dive by the Calf of Man in the morning and then a dive on the wreck of the Citrine in the afternoon. But instead of loading the boat at Port St Mary, Steve would run around to Port Erin pick us up there. The same format as the previous day was put into action and all the cylinders and various items of equipment were loaded onto the minibus. Then it was off to Port Erin with about two thirds of the divers. The rest would follow on the second shuttle run along with the cylinders and kit.
The sea was considerably calmer here thankfully so we were all looking forward to our first dive without getting tossed about in the boat on the way to the dive site. There was a fair bit riding on this dive as prior to coming over to the island, Garry had given a ZOOM presentation on what the trip would be like. In his presentation, he had given a promise that we would see seals on this dive. After a lot of banter between Garry and Kate about the possibility of seeing seals, a small wager was set. As it turned out, Kate had never seen a seal while underwater before. So if no seals appeared then Garry would buy a round of drinks for the group. If the seals did make an appearance, then the group members would all buy him a drink. I'm sure that he appeared to be very nervous the closer we got to entering the water!
The dive site was a boulder wall sloping down to about seventeen metres or so. The best plan on this dive in my experience is to pick you depth for the first half to three quarters of the dive then shallow up to about six meters or so and swim along above the kelp. The seals seem to like this depth plus they must feel a lot safer as they can hide in amongst the kelp if they feel threatened. We varied our depth between twelve and seventeen metres or so. One seal did join Tony and I but it didn't stay long. It made me wonder at that point just how the others were getting on. Besides the seal, we did see lots of lobsters, various crabs and the usual fish suspects such as Coalfish and Pollack as well as Gobies, Blennies etcetera.
Once back on board, all the talk was obviously about seal encounters. Who saw what? How many did you see? How long did they spend with you? And so on and so forth. Kate put Garry out of his misery by telling him that she and Chris saw quite a few seals. Another box ticked. And all celebrated with a nice brew and more lovely cake served up by our deck hand Squid.

We now headed back to Port Erin so that we could change our cylinders ready for our second dive. We had lunch while Endeavour was tied up. The weather had improved quite a lot from when we first set out in the morning. In fact, the sun had come out and a party atmosphere was developing shore side with music being played and lots happening on the beach.
Our second dive of the day was to be on the wreck or more to the point what is left of the SS Citrine. She was originally a small cargo ship built in 1921. She ran aground in thick fog in March 1931. There were I believe only two survivors out of the crew of ten. The survivors scaled the cliff face after swimming to shore. No mean feat even on a clear day!
There is no shot line on the wreck. After dropping into the water, it's a case of swimming down the kelp covered slope onto the wreck site. Tony, Garry and I reached the wreck at the stern. We had a look around here before slowly making our way forward. There are a good few prominent features to be see, the biggest being the single boiler. The engine is still in place also. There are also winches, chains and the spare propeller located at the bow. We didn't see the spare propeller on our first visit to the bow but with plenty of gas and time to spare, we revisited it and found it quite easily. We all agree at this point to end the dive so all sent DSMB's up making our three minute safety stop before surfacing. We were the last ones to surface after a fifty minute dive but the others were only just ahead of us.
We now steamed back to Port St Mary as the weather had improved even more and the sea had flattened out quite a lot. Once berthed, the usual cylinder unloading took place and we headed back to our accommodation and a nice hot shower. Oh and a pre shower beer lol.
That evening saw some of the group heading for the local Italian restaurant which is just up the road from the dive centre and others electing to get a meal from the Chinese takeaway which is even closer to the dive centre. After we had all dined, we met back at the accommodation and agreed to going for a couple of drinks down at the Albert Hotel.
We only had a couple because we were all aware that we had an early start the following morning which was to be our final days diving prior to heading back home. We met Steve, Michelle and Kathryn in the Albert and spent a pleasant evening chatting about guess what? Yes, diving! Why wouldn't we?
Monday morning was an early start as we were aiming to catch the 3.30pm ferry back to Liverpool. We already knew the plan for the day as we had discussed it in the pub the night before. The first dive was to be in Castletown Bay with the second dive being the Sugarloaf Caves. The weather conditions for Monday were as expected. Nothing short of perfect! The sea was flat calm with no wind.
Casteltown Bay was only a short run form Port St Mary. Once on site, Steve cut the engines and gave the divers a briefing. We were told that we would be dropping in on kelp but to head east and by doing so, we would make our way to the buoy in the middle of the bay. We descended on to kelp then followed our compass bearings and found the gulley's that we were briefed about which led us into deeper water. The kelp eventually thinned out as we went deeper and the visibility was a good eight to ten meters.
There was the usual compliment of fish and inverts to be seen. I tried my best to find Nudibranch's but failed miserably. As Garry and I finned along, a singular seal joined us and checked us out. It didn't stay around for long though and didn't return so obviously we weren't interesting enough! The highlights of the dive for me were the two Octopuses we spotted. Garry thought it might have been the same one but I was convinced that one was much bigger than the other. The first one squirted a lot of ink in order to confuse us whereas the second on just swam along and we followed it for quite some time. Poor Garry must have been well miffed as he elected not to take his camera in on this dive. Isn't that always the case! We were starting to feel a little chilled on the dive and Garry indicated that he would prefer to end the dive to which I agreed. Once again, DSMB's were deployed and we started our return.
The usual safety stop was completed before surfacing. It turned out that we were the last pair up. We secured our kit and enjoyed a nice cuppa and yes you've guessed cake as we headed back to Port St Mary so that we could change our cylinders and sort our kit out for our last dive of the weekend which was to be Sugarloaf Caves.
Once we had all changed our cylinders, Steve pointed Endeavour in the direction of the dive site and off we went. It actually isn't too far from Port St Mary. The caves aren't actually full caves except the first on which only has an entrance so it's a case of swimming into it and turning back once you can go no further. The main one is more of a fissure in the rock but it certainly gives you the feel that it is a cave. If you look up though, you can see the surface. By the time we had reached the dive site, we had all had about one and a half hours surface interval or more so kitted up so that it would save any rushing later when we had to head back to Douglas to catch the ferry. We entered the water as a group and once we had descended, made our way towards the rock face and the first of the caves. There isn't a lot of room at the far end of the first cave so everyone took things nice and slowly and allowed the pair in front of them sufficient time to reach the furthest point at the back and turn around before making their way into the dark. Once we had all taken a look around this cave, we made our way along the cliff face with it on our right hand side to look for the entrance to the main 'cave'.
From memory, the opening was awkward to find due to the amount of kelp growth. We made one mistake before getting back on track and finding the opening which we couldn't fail to find this time. There was nowhere near the amount of kelp growth around the entrance when compared to the last time we had dived it which had been four or five years previous to this trip. Everyone was aware that they should take their time swimming through here as this was the main part of the dive. They all seemed to be enjoying it!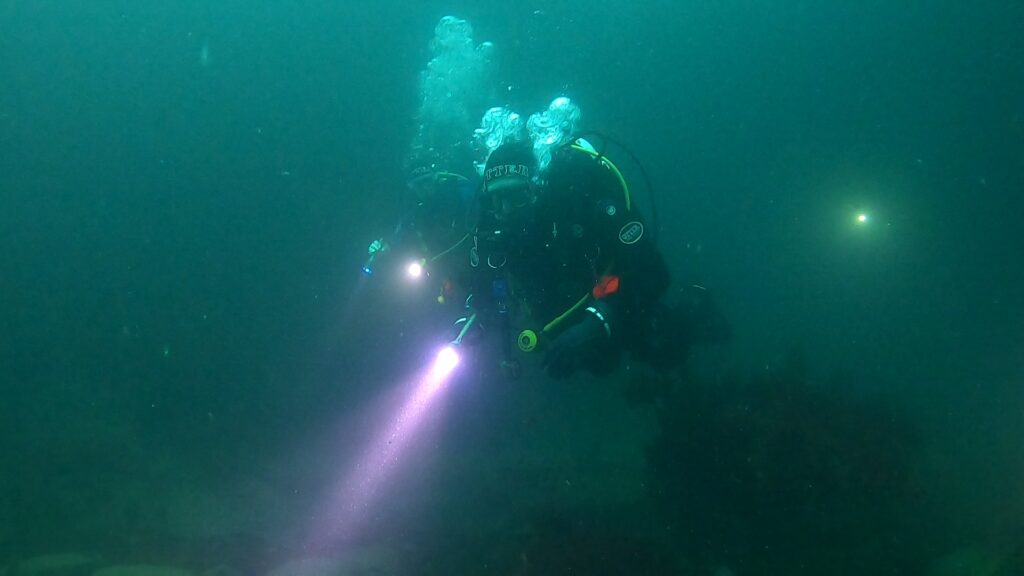 There are not masses of life in the cave due to the reduced light levels but there is the odd anemone where some light hits the wall plus odd crabs and fish. There are a good few Gobies or Blennies if you care to look for them. Most of these are at the three entrance/exit points. Once we had exited the cave, we meandered our way through the large boulders that had some kelp growth on them but it couldn't be described as a forest! We just followed the easiest way through. We were all hoping that the Guillemots etc would be in a feeding mood and think that our bubbles might have been prey fish. Sadly the birds weren't in a feeding mood that particular day. We all completed approximately forty five minutes before each pair delayed one of their DSMB's and started their ascent.
So the final dive of the weekend was over and done with and the boat headed back for Port St Mary where the minibus was waiting with our dive bags on board. Once moored up, all kit and cylinders were unloaded and the packing commenced. Thankfully it was a nice day so that made the task much easier. When all the cylinders and dive bags had been loaded onto the bus, we headed back to the shop and accommodation to get a quick shower, change and a bite to eat if you wanted it. We stripped our beds and tidied the flat up as best as we possibly could. The rubbish and recyclable items were taken downstairs before we all headed into the shop to settle our outstanding bills.
Michelle drove us into Douglas with the help of one of her friends who took three or four of our group in their car.
We arrived at the ferry terminal in plenty of time so all that was left was to say our good byes and express our thanks for a great weekend and that hopefully it wouldn't be too long before some or all of us were coming back again.
Check in was empty thankfully so we went through the process which included sending all our heavy dive bags up the conveyor only to find that the bags wouldn't fit through the opening at the top of the conveyor. Well by the time this was rectified, there was what can only be described as a fair sized queue behind us! I'm sure other passengers were cursing us. Eventually we boarded Manannan though and were treated to a perfect crossing. The sea was like glass for most of the way back to Liverpool. I took the time to finish off the dive logs on the way back so that I could get them to the Diving Officer as soon as possible.
As we collected our bags, we all bade each other goodbye as there was no point hanging around because we were all heading off in different directions anyway.
So the long awaited weekend was over. As the organiser, I just hoped that everyone enjoyed it and had lots of fun and laughs along the way.
A really big thank you to Steve and Michelle @ Discover Diving for all their hard work in trying to ensure that we had a great trip. Also thanks to Kathryn and Squid for looking after us while we were on the boat. And a special thank you from me to Ethan for washing and drying my soaking wet under suit and base layers. And a final thank you from me the organiser to the group as you all helped to make it a really enjoyable trip!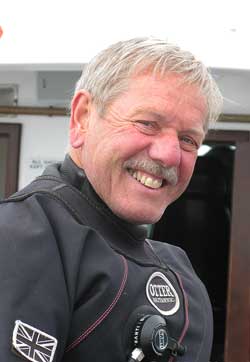 Terry Maloney a.k.a Zippy (trip organiser).