Towards the end of 2022 Alistair Reynolds and The Major were cooking up a plan for an early trip abroad in 2023. Alistair suggested Cape Verde as an alternative to the Red Sea and the plan then came together. The idea of warm water diving and a top all-inclusive hotel persuaded a whole bunch of us to sign up and the deposits went in.
Unfortunately, Alistair had to pull out early in the new year due to health problems which was a real shame and then the week before we flew The Major was also had problems, finally pulling out the day before we flew on his doctor's advice. Not a great way to start.
Anyway, after a fairly friendly five thirty start we headed to my all-time favourite airport, Manchester. However, this time I must admit, was amazed. The new T2 building was finally finished, and the parking and bag drop at the TUI desks went remarkably smoothly. Security followed which was again a shock, the staff were pleasant and helpful!!…. Twenty-minute queue and only another twenty to get through scanning, despite every tray being rejected, ironically, not because of the contents but due to dodgy barcodes on the trays.
The departure lounge was a disappointment, had set my heart on a full English but there were massive queues outside all the big bars. But, Surprisingly, managed to get a cheap breakfast from a taco bar! It was in a tray and came with a wrap instead of toast but was very nice all the same. We joined up with Dave and Kelly here then met up with Terry and Marg and Gary and Sue at the departure gate. No surprise that Mr Maloney had arrived in time to wander straight into the bar without queuing and get a full English.
Anyway, all onboard without too much fuss we settled down for the six-hour flight. Hadn't been looking forward to this but it wasn't too bad in the end, the plane was fairly comfortable and was sat with a really nice couple from Yorkshire so it was soon over. Cases collected we headed out to our coaches for the transfer. Just wish my huge diving bag had wheels…. The transfer was only about half an hour. Wasn't sure what I was expecting of Sal, but the only word for it is barren. Where there were hotels there was greenery but everywhere else is sand and rock. No sign of people or the alleged 40,000 goats!
On arrival, have to say the hotel was impressive. The exceptionally well-travelled Marg had been before and described it as one of the best hotels she had ever stayed in, one of the main reasons for choosing this one. Check in took half an hour with what looked like three of four coaches all arriving at the same time, but the free glass of bubbles took the edge off. Was more than happy to let the porter take our bags to our room for a small tip, really should have got a bag with wheels!
The hotel was big but didn't feel it with lots of separate accommodation blocks, all well spaced and a max of three stories and each surrounded by grass and palms. We were on the middle floor and was very impressed by the room. We had no sea view but a nice balcony, plenty of space, two double beds, nice bathroom with a huge walk-in shower and unexpectedly, free optics in the room. Whisky, gin, vodka and rum and a fridge full of free mixers and water! All included in the price…. this could be a messy holiday!
The bags arrived just after us so we just dumped everything, found our costumes and headed down to the pool for an hour or two. It was a bit cloudy but still pretty warm, especially compared to the UK. The pools were fantastic. Five in a row right next to the really impressive beach. Of the five pools, three were fifty-meter full width with two smaller bar pools in between. Pleasant temperature as well. Managed a couple of lengths but had forgotten my goggles in the rush to get down there. Still all very nice till I got out and sat down…. and started to get eaten alive. Had checked up on the Mozzy status before we came as they love me but didn't find many mentions. But turned out that everywhere we went outside in the hotel there was every kind of biting thing.
Anyway, headed back to get washed up and meet up for dinner. We were eating in the main dining room first night. One of six separate restaurants on site. We met up in one of the many the lounge area for a drink first then headed over. It's a massive area so found a table to seat eight then headed in for food. What a selection! Everything you can think of, fish, carvery, sushi, salad, pasta, local dishes and an amazing choice of deserts and puddings to follow…. as well as an exceptional choice of cheeses. Any though of taking it easy went straight out the window. Had to be careful with the wine as well. Once you said you wanted some they were round every time your glass looked low to top it up. After a wide-ranging choice of food and far too much afters we retired to the lounge again for a last drink then headed for bed. It had been a long day and we had a fairly early start.
So, diving day one had arrived. We met at the other main dining area by the pools for breakfast at half seven. This was the earliest to open and we were being picked up at ten past eight so didn't give us much time. This was probably a good thing as the breakfast choice was also amazing. With great coffee too. We left Sue and Marg as they don't dive and headed up to reception.
Was a bit nervous about the diving as I'd booked it and we'd paid up front. Choosing what looked like one of the bigger centres with the bigger boats. But luckily needn't have worried. Their van was outside with what turned out to be our guide for the week, Eric, waiting to load our gear up for the five minute drive to the dive centre. Once there we met Romina, who I'd booked everything with and Fabrizio who run the centre together. We filled out the usual paperwork then got a briefing on the plan for loading up and launching. Which turned out to be very slick.
Mr Barlow, who had forgotten to bring any shorts or trunks despite his p.a. putting it on his list ran off to buy some from the small shop next door. Once he returned, we started getting our wetsuits on and packing everything else into net bags. This is when Dave realised his shorts were a bit tight and spoke with squeaky voice for the rest of the day.
The bags were loaded onto the van then we were driven the five minutes to the pier. From here we carried our bags to the end of the pier where the boat was waiting. The pier is amazing, lots of different traders and basically a fish market. Not for the squeamish. All sorts being fileted and gutted. But at least we knew the fish would be fresh for dinner!
The instructors passed all the bags down to the boat crew and we got on from the steps. The rib we were using was huge, 9.5m with twin 150hp engines and three bottle racks. The six of us were at the back with plenty of room with another four divers up front, with two guides and two crew. The captain Antonio turned out to be exceptional over the week. We had all the time we needed to put our gear together and get ready whilst he slowly made way out of the moored boats in the area. Once we were ready he put his foot down and we were at our first site five minutes later. Just offshore from our hotel!
Sites are chosen on the fly as the currents are really unpredictable round the bottom of the island. Our first one that day, The Three Grote's turned out to be ok but many times during the week we had to change sites last minute because of the run. Anyway, Eric, our guide gave us a briefing on the site, a reef/wall, 20m max with three smallish caves. Nice way to start. We all got ready and managed to get in. It was only when you tried to roll in you realised just how big the tubes were on the rib. You had to shuffle right back before trying to roll off!
The dive turned out to be a leisurely swim along a reef wall about 10m high in places with great visibility At least 20m, probably a lot more. There was a huge quantity and variation of fish, most notably exceptionally large pipe fish which we'd never come across before. Up to a couple of feet long with two to three inch thick bodies. The fist of the three caves went in about three or four metres and was also teaming with fish, with some big shoals most noticeable out the way out. The second and third were a bit smaller but still full of life, with a large ray swimming round one of them…. very nice. The dive ended on a flattened wreck which just had a large boiler remaining, this was covered in large shoals really colourful fish. Nice way to finish.
Back on the surface, the boat was waiting, all we had to do was take off our wings and the crew lifted them onto the boat, along with cameras, lights and fins, then when we were ready just climb up the ladder. No way to get onto those tubes without a ladder!
There was then twenty minutes of sorting out kit and swapping cylinders for the second dive. After that we settled in for a ten minute ride over to site two. During the surface interval Eric filled us in on the next dive. This was to be a smallish and shallow wreck called the Santo Antao. She was 45m long and is now broken into roughly three parts, the middle being broken up but the two ends fairly intact.
Once in the water it was a really nice dive with great vis again. Plenty of time to swim around the wreck and poke into the various holes. The first thing we noticed were the puffer fish lying in the rocks and weed around the front section. Took a while to work out what you were looking at but then realised there were dozens…
Around the wreck there were again lots of shoals of fish, with a couple of rays, more of the huge pipe fish and a apparently a turtle at distance but I didn't see that one. We spent a really enjoyable hour drifting round and taking it all in but by the end was glad to get up…. was starting to feel a bit chilly. It was around about 21 or 22 degrees for most of the dives but got a bit chilly if you weren't fining a lot.
After climbing aboard again it was just a case of packing everything back into the net bags and stowing them in the front of the boat whilst the captain headed in slowly. At the pier the boat dropped us off at the beach, I guess for safety reasons. Eric had said it was only waist deep but as we found out it was a good six of seven feet and a bit of a swim back in. Not easy when you had undone your semi dry to your waist and it was now full of water! Once bailed out we met the crew back on the pier and found all our kit had already been brought up and loaded into handcarts along with all the cylinders and these were pushed back to the dive shop with us following.
At the shop all we had to do was wash the gear out, hang it up and get changed. The dive team there were going to look after it overnight, so we gratefully accepted the ride back to the hotel. Well, most of us, Gary wanted to get his steps in…
It was only half one when we got back, so we met up with some of the others for lunch in the pool restaurant to discuss the days diving and enjoy more of the fantastic food…. and cakes…. and a beer or two. The rest of the afternoon was spent chilling round the various pools. Enjoying a few lengths and trying not to get bitten.
We met up for the evening at the lounge again then headed over to the main restaurant. We had our usual table for eight and tried not to eat everything on the menu. Its really hard when there is no set menu and there is such a variety of amazing foods to choose from…..followed by an amazing choice of deserts. Anyway, after dinner and a couple of drinks back in the lounge we called it a day and headed back to the room.
Day two started like day one. A bit cloudy but still nice and warm and another big breakfast, just far too much choice! After being picked up again, at the shop we collected all our gear together got packed and walked down to the pier. No lift this time, had to work off all that food! Once on the boat again we headed out to see if our first site could be dived. We were hoping to dive Boris, the only real intact wreck around but unfortunately the current was too strong so we headed a bit further out to Choclassa.
This was another good dive, down a line from the boat to a plateau reef covered with all sorts of nooks and crannies and covered with all sorts of fish. The vis was even better than the day before. At the edge we dropped down further to about 30 metres to an amazing overhang, covered with bright yellow anemones and orange Soldier fish. We followed this round for some way through sholes of fish of all kind and poking into the many crevices. Great to see so much life on the reef and also amazing views out into the blue. Eventually we headed back up onto the top of the plateau and following Eric back up on a SMB.
Lovely dive but was glad to be heading back up as had started hitting deco after we dropped over the edge and still had four minutes by the time we got back to six metres. Once we were all up the boat came in a picked us up then headed off to the next site.
This turned out to be Caldaia, the boat whose boiler we finished on the day before. This was a very shallow dive, a max of 10 metres but in parts as little as three. Over an hour drifting slowly on the current and in the wave surge pottering round the reef. Lots of the fish we had seen before and some new ones to me, including a Scrawled Filefish. Even a small nurse shark hiding in a hole but must admit, I couldn't really see it very well and didn't want to put me had too far in to try and get a picture……
By the end I was really cold so glad to get back in the sun and head back to the beach. Kept my suit closed this time and got off the boat last so could at least stand up and keep my hat dry!
After collecting our gear, wandering back and washing up it was time to head back to the hotel for lunch and more food. Took it easy at lunch as Sue had kindly booked us all into the Steak House for dinner and I could only eat so much. We found a quiet spot by one of the quieter pools for the afternoon and managed to get twenty lengths in…. more to keep away from the biting things than the exercise. We decided it was time to head in to get ready when the bonkers bingo started at the bar pool nearby.
So, after a shower and a bit of a rest it was soon time to head down to the pool side restaurant again as this was where the Steakhouse was housed. Everyone seemed to really enjoy their meals, my fish was amazing…. as was the desert! The staff there were fantastic, managing to deliver a really nice three course meal for a hundred people, after a long day of breakfasts and dinners whilst smiling all the way through…..and we were only the first sitting, there was another group after us!
After a couple of drinks back in the bar we headed for bed, it had been another long but enjoyable day.
Day three started just like the others except the clouds had gone. Just big blue skies and another big breakfast.
After kitting up and loading onto the boat we headed out to the try and dive the Boris again. Today we were in luck apart from being joined by an annoying older British diver who had been everywhere, done everything and now wanted to join our group and tell us all about it. Unfortunately for Terry, as he looked the most experienced diver he latched himself onto him. Ah well.
Anyway, the Boris is a Russian trawler called Kwarcit that had been caught ferrying illegal immigrants from Senegal to Cape Verde and impounded. In 2006, not knowing what to do with it, the authorities sank it as an artificial reef. Its sits upright with a max depth of 30 metres.
We headed down the line, Mr Gungho obviously racing to be there first and nearly causing a problem as Kate and Dave had to take it slowly because of their ears.
The dive on the wreck was great. Its not massive, but is intact and whilst there were ways into the hold and bridge area there didn't seem to be much to see more that could be seen from the entrance point. Needless to say someone had head inside straight away…. on his own. Ah well.
The whole wreck was covered in life. Rays, Jackfish crustations and some massive pipe fish. Even bigger than the ones we'd seen so far. There are supposed to be Frog fish and Nurse sharks but I did spot any. We did see some Nudibranchs but only with a magnifying glass…. yes we're old people and Kate always takes one with her!
With the delays at the start getting down we were soon on our way up again… only managing half an hour before heading back up. Back in the boat we switched bottles, and Terry's new best mate, having found out he was an instructor was trying to persuade him to sign off on some training! Cheeky git.
The second dive was to be Lost Anchor. This became a bit of a joke and it ended up being the second dive a few times and we're fairly sure it's just a different part of the second reef we had dived the day before. It was still a great dive, loads to see including a few rays, congers and a couple of nurse sharks, one about four or five feet long, hiding in the reef. Did see a turtle at distance but some of the others saw more and got a lot closer. Didn't find the anchor though!
After getting back and washing up we were fortunate to find out Terry's new mate couldn't join us on our last two days diving as they were fully booked….. Ah well.
After another restrained lunch we headed back to the pool for the afternoon. This time I went for it and managed 40 lengths, unfortunately without sun cream so by bonkers bingo time my back was starting to get very red….. and I'd been bitten a lot more!
The evening meal this night was again thanks to Sue, who had booked us all into the Italian restaurant. Also, as the next day was Sunday and an enforced break day as all the dive centres were closed, meant we didn't have to be too careful about how much we drank. The food in the Italian was exceptional, a really great buffet starter with all the usual suspects followed by a great choice of mains. Think the lasagne was the choice of most but I went with the fish again. All accompanied by goods wines and followed by more sweets and cheese.
Back in the lounge bar I discovered they had my favourite pastis so I had a few of them whist Terry, Marg and Kate got stuck into the Ballantine's. Nice end to another day.
The next day it was nice to lie in for once. It was also another sunny cloudless day and already getting warm when we grabbed a late breakfast then decided to walk into Santa Maria, the local town. There's really not a lot there, a couple of streets with small shops selling mainly very expensive clothes and the odd bar and café. We did get hustled into the local market which was a big mistake. Ended up paying way too much for a pile of junk just to get out! We found a supermarket of sorts, run by the obligatory Chinese bloke and got some evil smelling anti bug spray as well as some great knock off ray bans for five euros or a pile of Cape Verde Escudo's. Of which I had plenty after using the very confusing cash machine in the hotel and ending up with £160's worth!
Anyway, after that we headed back to get a coffee from the bar in the hotel before heading down for lunch. Whilst there we bumped into a very dirty looking Dave and Kelly who had just come back from a two hour buggy safari round the island. They had really enjoyed it but as there is manly rock, dust and sand outside the hotel grounds and the buggies didn't have screens they looked like they had been sandblasted.
They went off to get cleaned up so we headed off for lunch then sat around the pool again for the afternoon. The bugs seemed to really like the bug spray so I got bitten some more and fell asleep long enough to get my front the same colour as my back.
That evening we were back to the main restaurant again which was no hardship. The food was amazing again, the only problem being trying not to eat all of it. The deserts were getting harder to resist and Gary looked to have developed an addiction to the flumps on offer in the kids section! So, after another nice meal we turned in fairly early again, but only after a quick round in the bar.
Monday we were back to the diving. There wasn't a cloud in the sky and it was warm again. After another big breakfast, Marcio collected us and we started kiting up. We had been trying to organise a night dive before the end of the week although Terry nearly did for the plans when he told Dave he wasn't interested as there were too many sharks around at night! We eventually talked Dave round but we will still short as Gary wasn't interested either. However it looked like a couple of the other customers diving this week were interested so we had our fingers crossed all day.
We were hoping to do Boris again as the first dive but when we got there the change in wind direction overnight meant the currents were too strong for most of the sites we had dived so far. Se we headed off round the bottom of the island and up the west coast some way to a reef / wall called Peridao. The dive was nice without being spectacular. There didn't seem to be the same abundance of fish on this reef but there a couple of nice Morray but a bit disappointed not to see any of the promised turtles that are supposed to be resident. Still it was still a nice 45 minute dive with good vis.
For the second dive we again hoped to go back to one of the wrecks but it turned out Lost Anchor was the only choice due to the current. On the way back we were lucky enough to see a humpback whale breaching in the distance. Well, I could only see the spray but those with better eyes assured us it was a whale. The crew did try to get a bit closer but it was moving too fast, even with twin 150's on the boat.
Back at Lost Anchor we spent another hour drifting and poking round on the reef. We found a couple more nurse sharks and a few rays and there were plenty of fish including an inquisitive puffer fish that followed us round for quite a while. This time we did see the Anchor, or what's left of it… it was being used as the the mooring for the line that we were using and had a nice ray hiding underneath.
Back at the shop we sorted our kit out and got confirmation that the night dive was on! Fantastic. So we headed back to the hotel for a big lunch and few hours more hours in the sun. It really had got quite warm by now, pushing into the high twenties, very nice for March.
Marcio collected me, Kate, Dave and Kelly at five and after picking up another customer down the road headed back to the shop. Marcio was organising the night dive but Eric was coming with us as well. There was a much more detailed safety briefing for this dive as you would expect with everyone having to make sure all their torches were working well before we left the shop.
After this everything went ahead as it had during the day but the sunset was spectacular from the pier and from the boat. We got to the site, Pontinha, with plenty of time to spare before full night so the Captain could check on the current. Everything was good so we got a final brief and got ready to get in.
We had all done night dives before in at Capernwray but this was our first night dive at sea so there were plenty of nerves as we jumped in and headed down the line. It was completely different in the dark and as expected took a while to get ourselves organised and settle down. Everything looked far more vivid as you could only see what was in the torch beam. There were lots of fish we hadn't seen during the day, a few lobster and what we think was a snake eel. It slithered out the sand and moved like a snake on the bottom but is apparently a fish.
Although it was just short of a fifty minute dive it was all over too quickly. Was amazing to see so many different fish compared to the day and to see so many of the day fish sleeping in the reef. Coming up to the surface was spectacular as well. Being off-shore with no light pollution the stars were stunning.
Back onboard everything was back to its normal efficient self and we were soon back at the pier to swim in. A nice touch was that Marcio stopped at a beach bar on the way back and bought us all a beer!
We were washed up and back at the hotel by about half nine so had plenty of time to drop the kit off and head to the restaurant to grab a late dinner then catch up with the others. The only downside to the night dive was that we missed out on a meal at the Japanese restaurant. From what the others said it was a really good with some great Wagyu steak. Ah well, that will have to wait for next time.
We had a quick drink then headed back to get a shower and try to get some sleep.
The last day started with clear skies again and warmer still. After another big breakfast and being collected again we got our gear together at the centre and headed off for the boat. We really wanted to do Boris again but again the current was too much so we headed back to the site of the night dive, Pontinha.
The dive went a bit deeper than we had the night before but there wasn't really a lot to see. A couple of big moray and a couple of lobster but it really was quite sparce compared to other sites we had been too. … or maybe it was just we had done too many of the same kind of dive. We did find a largeish nurse shark but my gopro decided to freeze just before we found it. Typical.
During the surface break and on our way to the next site we were lucky enough to see another whale breaching. This time I was told it was a mother and calf but again, given the distance all I could see was the splash. We tried to get Eric to take us back to Santo Antao for the last dive but apparently the current wouldn't have been good there so we were taken to Farol. This is another shallow dive which we were fairly sure was part of the lost anchor reef but nice all the same. There were again lots of cracks and gorges to investigate with lots of the local fish around. Some moray and ray but nothing new. We did spend some time poking round the flattened remains of a wreck but there was nothing, but the skeleton of the keel left to see.
And after another pleasant hour that was it, diving done. We had all chipped into a pot to leave a tip and decided that it would be nice to split it between the Captain and Eric. Fairly sure they would all pool all their tips anyway but want to show our appreciation of the great way we had been looked after on the boat and also by the way Eric especially had looked after us during the week. Really was a very well run centre with a very friendly and helpful team, wouldn't hesitate to recommend them to other divers.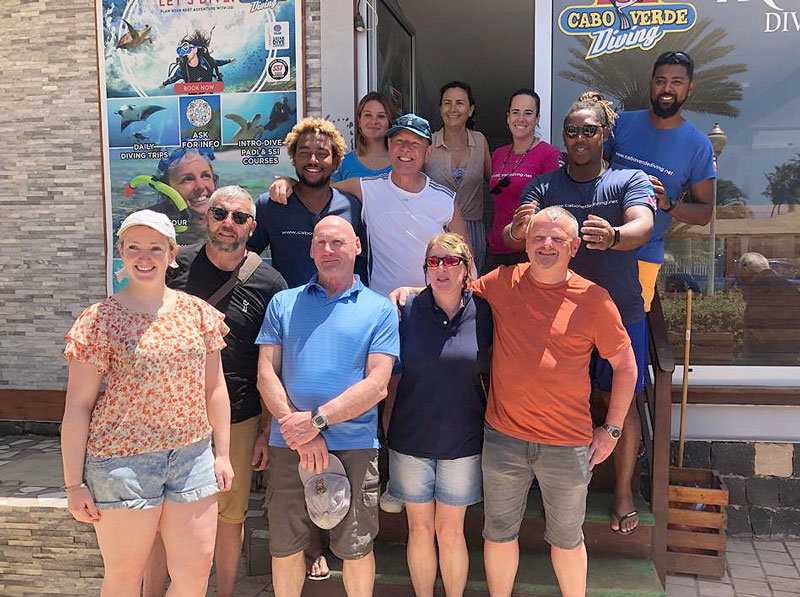 Once we had all the kit back we spread most of the gear round the balcony to dry but following a tip from Mr Maloney we took our wetsuits down to the pool and hung them over loungers for the afternoon, turning every hour or so. Whilst they were cooking we spent a pleasant hour or two in the bar pool with Dave and Kelly, trying out some of the cocktails.
The last night was another trip to the main restaurant, which wasn't a problem. We had our favourite table again and probably a bit too much food and definitely far too much desert then retired to the lounge for a few drinks to finish off a great week.
Next day started with an early breakfast followed by the usual game of Jenga, trying to get everything back in where is came from then heading down to reception to check out…. still wishing I'd got a dive bag with wheels. Was expecting more fuss but checkout was very quick so joined the others to wait for the coach. Ours was the last of three or four to arrive but first to get to the airport from some reason.
Unfortunately, this still put us at the back of a very, very long queue at the bag drop. Tui were obviously running on a skeleton crew and it took well over an hour to get to the drop. This went ok for us but Dave, Kelly and Gary had to get the a rep involved to get through without extra charges. The staff there didn't seem to know about the extra 5kg allowance for divers. Next was the queue for security, which had just two scanners, one of which seemed to be permanently dedicated to wheelchair users and families with prams. This took another hour but fortunately neither of us were pinged for anything. Finally we joined the queue for passport control, which only took another ten minutes.
So, in the end we managed half an hour in duty free and had just grabbed a coffee when our flight got called. Typical. We rushed it down and joined the queue only to be left standing there for twenty minutes. After finally getting onto the runway we were then held up for another ten minutes waiting for a lift to load two wheelchair users onboard. Naturally, as soon as it did arrived both got up and walked up the steps under their own steam!
The flight back was on a 767 which I have to say, wasn't very comfortable. Both overhead lockers by us were full of flight crew bags so ours had to go in the ones behind which just pushed the problem onwards down the plane. For a bigger plane there wasn't much legroom and the seats were quite hard. We also had two larger girls sitting in front of us who bent the seats every time they moved.
The flight was right on time and the only delay came at Manchester airport as there were no steps ready. Bit annoying as we were right next to a walkway but that's Manchester for you. Happily this meant the luggage was already on its way round when we got past passport control so we were soon ready to say our goodbyes head off home.
All in all, a great week with some really good company. Looking forward to the next one already.
Thanks to everyone for the use of their pictures.