John Dunne is organising a karting night at TeamSport in Liverpool. The date is now confirmed as 25th February. The cost if £50 and details of the evening are below. If you are interested put your name down on the sheet on the club noticeboard or contact John directly.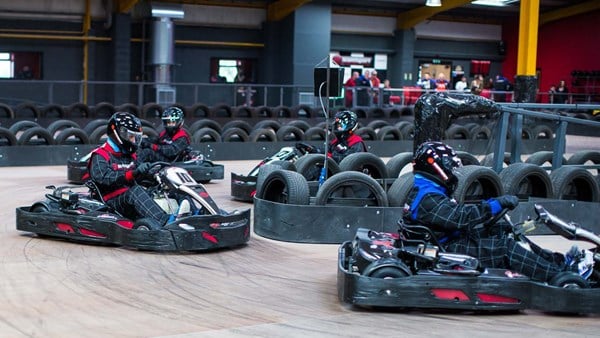 Exclusive Grand Prix
Race it out to the finish line in our grand prix styled race. Groups can enjoy exclusive use of the track during the sessions, which consist of a combined practice and qualifying session, followed a short break before lining up on the grid ahead of the big race. There can only be one winner on top of the podium – so make sure it's you who takes home the gold, and not your nearest rivals!
If you're looking for an event with a little bit extra, this is the event for you! Whether you're celebrating an occasion or just simply want to enjoy some high-octane fun with your mates or family, we've got you covered. With guaranteed exclusive use of the track for your group, an upgraded race format and trophy presentation to finish – you can arrange an event to remember!
Who can race?
Grand Prix are available for ages 14+ with a minimum inside leg measurement of 29 inches (Adult karts only) and groups must have a minimum of 12 depending on track capacity at your desired location. Some of our larger locations require a minimum of 14, 16 drivers or if we are running on one our awesome international circuits.
What's the format?
It's a simple yet very effective race format built with finding the ultimate champion in mind. Once you have been signed in, kitted out in your racewear and been through our safety briefing, its race time! You and your group will have exclusive use of the circuit whilst on track and will start things off with some practice laps to learn the circuit and get to grips with your kart before moving onto qualifying which is all about the fastest lap, just like in Formula 1 it only takes a touch of magic on one lap to take pole position. Your race will start out on the grid with an endurance style sprint to the chequered flag, where the aim is to hang to first place or risk the glory being snatched from you by your competitors. After every session on circuit drivers are rewarded with a break where you'll be able to view your personalised lap times via email, or via our free app, of your performance and after the final session at the end of your Grand Prix it's capped off with a trophy presentation for the top 3 drivers over on the podium.
The exact format and timings do vary from venue to venue as listed below:
2 x 15 minute – 5 minute practice leads straight into a 10 minute qualifying session, the race is a 15 minute sprint to the chequered flag.
What's included?
Race-suit and helmet hire
Safety briefing
Exclusive track use
Personalised lap times emailed to you or available by downloading our app
Trophy presentation
How long is the experience?
We recommend to allow 1.5 – 2 hours in total from arrival for your Exclusive Grand Prix experience for groups of up to 30.
All members of your group will be requested to arrive at the venue 30 minutes prior to your designated track time. We'll get everyone signed in, into their race-suits and after a short safety briefing everyone will head to the pits.