So Summer Bank Holiday was looming on the horizon and initially, it looked as though what is fast turning into Merseyside SAC's annual trip down to Plymouth diving with In Deep was in jeopardy due to the ongoing Corona virus issues. But thankfully, restrictions started to lift and although we had to reduce our numbers from the planned twelve divers, ten of our members traveled down for what was hoped to be a good extended weekends diving. We were all staying at The Boringdon Arms on Turnchapel which is fairly convenient for the dive centre which is based at The Mountbatten Centre.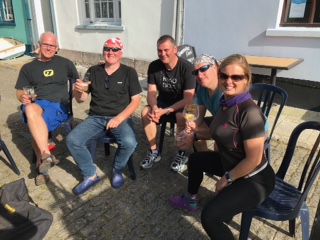 That evening, to avoid any hassle, we all dined at The Boringdon and afterwards, over a couple of beers, we discussed the forthcoming weekend. Especially the weather forecast!
This was because prior to leaving, we checked the forecast and were concerned to see that the projection was that it was going to take a turn for the worse. Thankfully though despite the forecast being for Northerly Force 4 winds we were able to use the shelter of the headland and still head out to sea. We had to juggle the planned dives around to enable this but using the experience of our skipper James Balouza we were going diving so who cared?

So Saturday 29th dawned and the conditions looked brilliant. Bright sunshine and flat seas with hardly a hint of the forecast Northerlies.
Seeker had been mostly loaded with our kit the day before so the atmosphere was distinctly leisurely putting the final bits and pieces on board. Ropes off was at 9.30am and we headed out past the breakwater fort for the site of the S.S.Persier, a Belgian steamship of 5800 tons that was a World War 2 casualty torpedoed in 1945.
James put the shot in close to the three boilers. Our buddy pair headed for the stern first. We passed the remains of the twisted engine and prop shaft. We followed this until eventually reaching the stern where you can see a gun mount before moving further aft to find the steering quadrant, rudder shaft and rudder. This is a really nice section of the wreck. Heading back past the boilers, there is lots of steel plate everywhere which again is home for the many Congers on this wreck. The shoals of Bib were well in evidence around the boilers etc but the real highlight on this dive, fish wise, was a Monkfish of about one metre long that Nathan and Stuart Matthews found. I know at least three of the Buddy pairs saw it at close quarters! It was an excellent find!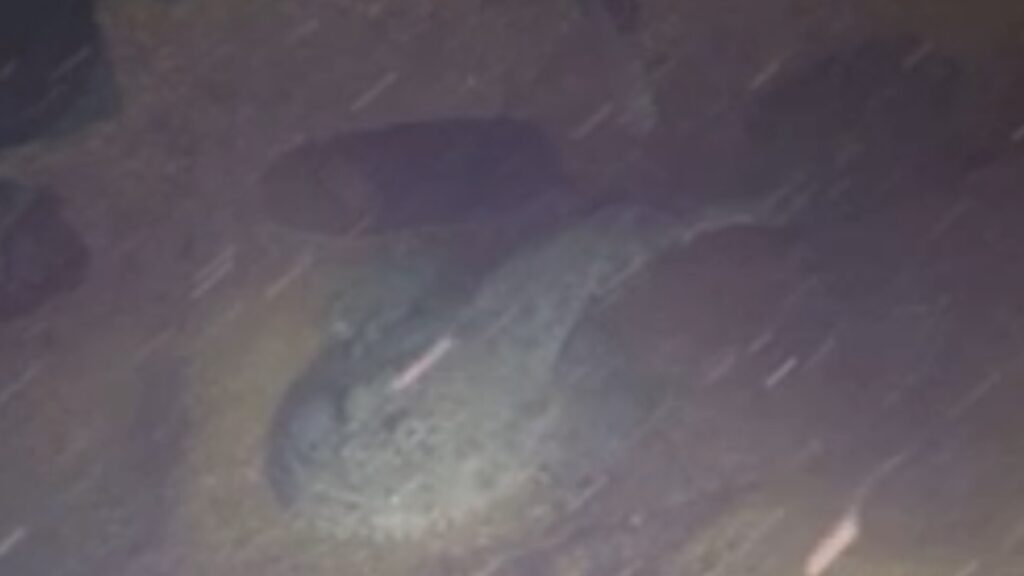 We continued on to the bow, explored around this area before heading back for the shot line. A point to mention here is that my buddy Garry was trying his new strobe out on these dives. We had seen these Nautilus strobes for the first time just a few weeks earlier on a club trip to Eyemouth and were very impressed with them so purchased one each. He clipped the strobe on to the shot line a couple of metres above the wreck and it made finding you way back so much easier. So once back at the shot line, we started our ascent towards our deco stop. A great one hour dive!
We surfaced to nice calm conditions and as James set a leisurely pace towards our second intended site, those that need to change cylinders etc did so.

Our intended second dive was the wreck of the S.S.Oregon which sank off Thurlestone Beach in 1890. She was a three masted barque of 810 tons that has now become a really pleasant dive. We descended the shot line in thirty metres of water in decent visibility considering how the storms of the preceding week had battered this section of coast. She is not a huge wreck so can be covered completely in on dive. You can see the remains of her masts, anchor and hawse pipes with winch gear behind at the bow and her steering gear and rudder post and rudder at the stern. All well worth looking for! There's plenty of flat plates now as she has collapsed to the sea bed but these have become home for lots of Conger Eels and Lobsters. There's plenty of fish congregating around the wreck also. There are also plenty of Pink Sea fans on the wreck. We covered the entire wreck in the planned time before ascending the shot line to complete our decompression requirements which were built into our planned one hour 'surface to surface' time.
Two really enjoyable dives to start the weekend off!

With a very successful day and two good dives under our belts, everyone was in good spirits as we headed back for the jetty at the Mountbatten Centre. After we had all freshened up, we assembled in the rear garden of the Boringdon for some liquid refreshment before making out way to Lackys Balti House. We all enjoyed some really nice dishes apart from poor Nathan who apparently finds a Korma a bit too hot to handle lol!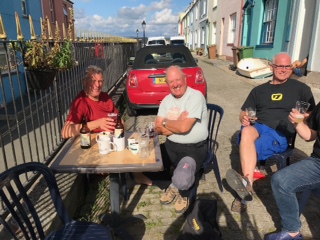 Sunday 30th was every bit as good as the previous day with regards to the weather. In fact it was better! Beautiful blue skies, a warm gentle breeze and a flat calm sea. What more could we ask for? Ropes off was to be at 9.30am once more and our intended dives were to be the S.S.Rosehill and the S.S.James Eagan Layne.
The Rosehill was one dive that I particularly wanted to do. It didn't disappoint! She was a collier of approximately 2780 tons and torpedoed in September 1917 by U40 a couple of miles out from Portwrinkle.
The dive has reputation for poor viz which was apparently due to her being in the dumping ground for dredgers. I discussed this with James prior to travelling down and he assured me that this was no longer the case. His information was spot on!
He shotted the wreck just stern side of the boilers. We descended the line into really good viz. Garry tied his strobe on to the line again then we set off for the bow where one anchor can be easily found along with plenty of chain and bollards.
Returning back to and beyond the boilers you can still see the triple expansion engine and the prop shaft behind it. Loosely following the prop shaft brings us to the stern area where before reaching the propellor and rudder you can find the 12 pounder gun pointing skywards. One blade of the iron prop stands vertical and the rudder lies flat on the sea bed. There's lots to take in here. The stern is definitely the better part of the dive. We then made our way back to the boilers but swam past them and back to the bow to have one last look around the remaining anchor complete withs its chain in the hawse pipe. Its big and I personally appreciated the workmanship that went into making it! So after this, we made our way back to the shot line with the strobe flashing away on it which made it an easy job to find. We completed our decompression obligations before surfacing into a beautiful sunny day.
As the previous day, James the skipper set course for our second dive site but just plodded along at a few knots. It was one of those type of days. It couldn't get any better we thought.
But it did. In the distance, James spotted lots of birds (mainly gulls and Gannets) obviously feeding on what was likely to be a bait ball of silverfish. As we got closer, we could see Dolphins herding the fish into a tighter ball and driving them to the surface before rushing in to feed. It was an absolute feeding frenzy with more and more birds and Dolphins arriving all the time. Things just went crazy! I don't think that I would be exaggerating if I said that there were at least thirty or more Dolphins in the melee! This went on for ages and James held station at a reasonable distance so we could watch. Quite a few Dolphins came very close to the boat. It was an awesome spectacle!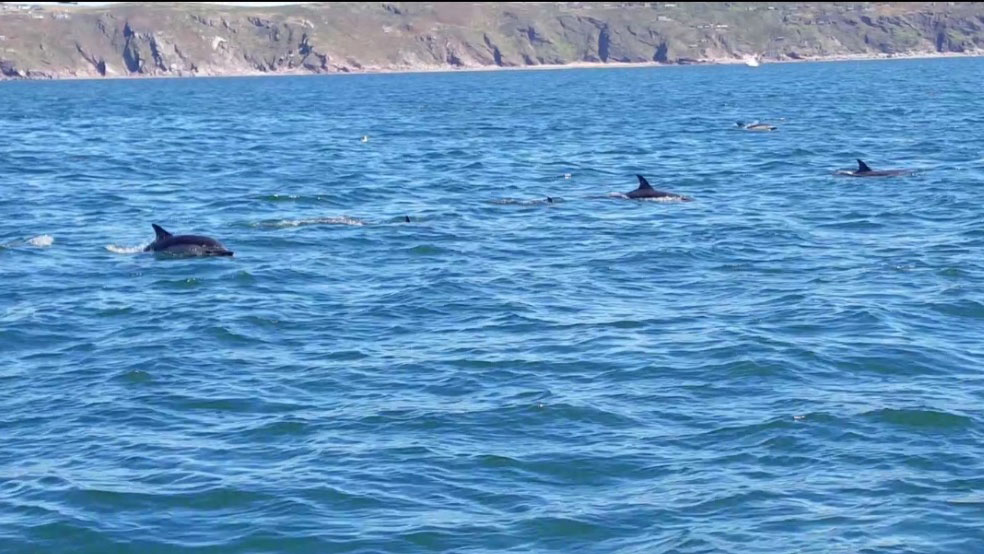 After watching for quite some time, we motored on to the site of the James Eagan Layne. Quite a few Dolphins had obviously had enough to eat and broke away from the frenzy and swam along with the boat instead.
The JEL as she is commonly know is probably one of the most famous UK wrecks! She was a World War 2 US Liberty ship of just over 7000 tons. She was torpedoed in March 1945 but didn't sink. She was towed into Whitsand Bay but unfortunately sank there and was duly written off.
The wreck is permanently shotted at the bow. Once on the bow, you drop inside the wreck and make your way at a leisurely pace through all the hold areas towards the stern. You can see both sides of the wreck once inside her even in relatively poor visibility which was the case on this dive. I prefer to swim down one side of the wreck and return up the other. This is basically what our group of two buddy pairs did. Ten minutes into the dive I spotted an AP Valves Buddy SMBCI and reel lying in the wreckage. I thought to myself that this would be our groups chance to do a good turn for a fellow diver as last year, one of our group lost his on the Maine. A kind diver from Cornwall found it later that day and returned it to its rightful owner. Well imagine my disbelief when after picking it up I saw the initials of that very same person on this reel! I clipped it on to a 'D' ring then glanced over to my buddy. Sure enough, no reel and SMBCI on his 'D' ring! We continued on our dive with a slight port to starboard current pushing us towards the superstructure all the time but it was anything that we couldn't handle!
We turned back once we had reached the broken stern and made our way to the bow. As there was still a current flowing each pair deployed a DSMB and we floated along in the gentle current before surfacing to find Seeker standing by ready to pick us up.
Another excellent days diving in fantastic weather and also the fantastic experience of being able to watch Dolphins in a feeding frenzy during our surface interval.
We headed back for the Mountbatten pontoon and on to our digs to get ready for a meal over in Plymouth. We caught the last water taxi over then headed to the bars and eateries for much needed sustenance. All was going well until it was time to eat. We inadvertently went to the wrong restaurant. We should have gone to Harbourside Fish & Chips but went to The Harbour Seafood Restaurant & Takeaway. Suffice to say, it's a mistake that we won't make again but hopefully will go back and visit Harbourside Fish & Chips when we next visit.

We woke the next morning to very good weather yet again. Our intended dives for the day were HMS Scylla and Le Poulmic. HMS Scylla is a decommissioned Leander class frigate that was deliberately sunk in Whitsand Bay in March 2004. James shotted the wreck just on the bridge area so we only had to drop a short distance to the wreck. We entered the water with the buoys just bobbing away and showing no sign of any flow. It was a different story on the wreck though with a stiff flow crossing the wreck from port to starboard. We therefore concentrated the bulk of our dive on the port side but did occasionally venture across the wreck from time to time. At on point, I had a juvenile Conger of about 60cm long swimming alongside me as I made my way down a companionway. Our group of three divers (Garry, Stuart & I) covered the entire wreck before deciding to end the dive a little early as we had had enough of fighting the current. We ascended the shot line and within just a few metres, the flow disappeared. We surfaced in flat calm conditions.
We now made our way to our final dive site which was to be the wreck of Le Poulmic. She was a French personnel carrier which the Royal Navy seized after the collapse of the French forces. She was put to work around the Plymouth area as a minesweeper. Unfortunately she hit a mine in October 1940 and sank.
In truth, there isn't much left of the wreck at all and James did well to shot it. We dropped down the shot line in possibly the best viz that we had experienced all weekend. Our group took a look around at what wreckage there was before heading off to find another piece of the wreck about 60 mtrs or so away. We duly found this before moving on in a very gentle flow and turned the dive into a reef dive now. There was bits of pottery everywhere. I wonder just where it had all come from? We crossed gullies, gently glided down them as well until they eventually petered out into pure sand. This is where we encountered a stunning Spotted Ray.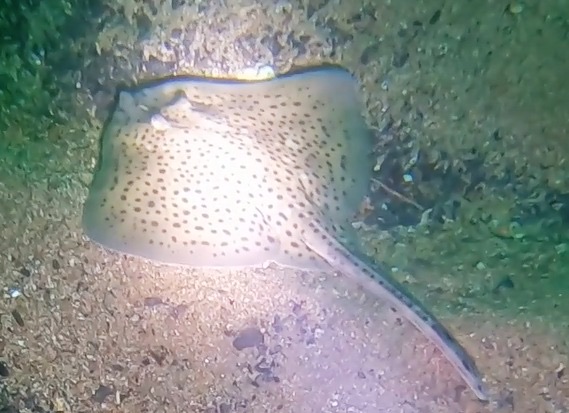 It was just gently gliding over the sand. Maybe looking for food. Garry and Stuart filmed it for some time before we turned back towards the rocks. There were lots and lots of Sand Eels around this area. We had now reached our agreed dive time so I deployed my DSMB and we all ascended together. It doesn't sound an inspiring dive but believe me, it was really very enjoyable and one we would gladly do again!

And so it was back to the Mountbatten pontoon where all kit had to be offloaded as we were travelling home the next day.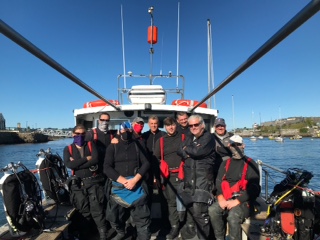 With all the kit sorted and stowed, gas bills settled, we said our good byes to James and the rest of the In Deep gang. It was back to The Boringdon Arms now for a relax and a few beers before heading out to our final eatery of the weekend. This was The Clovelly Bay which is only about fifty metres away and therefore not too far to stagger back lol. The food here is absolutely excellent and no matter what you order, you will not be disappointed. Due to the Corona virus issues, the menu is currently smaller but every bit as good.
We eventually ambled back to The Boringdon for a few more beers before all calling it a day.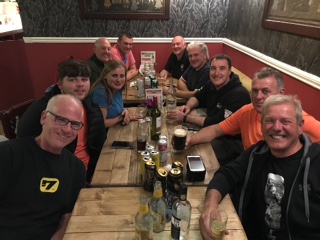 The next morning, we had a our fourth great breakfast of the weekend before setting off on our journey back home.
One hilarious moment on the drive back was when Garry opened his packed lunch of Tuna Mayo on Brown sandwiches to find that some prankster who shall remain nameless, had exchanged them for Strawberry Jam on White. 🤣🤣
Thanks to everyone at In Deep for yet again making our trip memorable and making it all run smoothly. Thanks to everyone in the dive team helping to make this the best trip that we have ever had to Plymouth.

The team were as follows. Stuart & Nathan Matthews, Andy Rath & Kerry Place, Alan 'the Major' Jones & Nigel Thomas, Ray 'the Barron' Cramer & Mark Holroyd, Garry Bolland & Terry Maloney.

Terry Maloney