Nautical Archaeology Society Archaeological Field School
7th – 17th June 2019

The Nautical Archaeology Society (NAS), the Royal Commission on the Ancient and Historical Monuments of Wales (RCAHMW) and Bangor University are currently collaborating on a project to commemorate the centenary of the end of the First World War and the shipping losses which occurred around the Welsh coast.
The project is funded by the Heritage Lottery Fund and, as part of the project, the Nautical Archaeology Society will be running a FREE field school at Abercastle in Pembrokeshire from 7th – 17th June 2019. The field school will be based around the wreck of the SS Leysian. If members of your dive club are interested in participating in the field school and bringing along your club boat to dive the site over the course of the field school, please contact us for a booking form at: MADUdiving@gmail.com
The field school will be based and run from Garn Isaf in Abercastle where there will be FREE air fills. For the duration of the field school, camping will also be FREE at a 15-pitch camping site. However, pre-booking is required. To check availability and to reserve a pitch, please contact: Ian Cundy on: 01684 574774
For anyone who doesn't want to camp, there are also B&B facilities on site, but these are not free and would need to be booked and paid for directly, see: https://www.garnisaf.com
FREE training will be provided during both weekends of the field school for people who have not previously attended a NAS recording and surveying course, and FREE additional specialist courses will also be run during the field school upon demand and should weather condition preclude diving activities.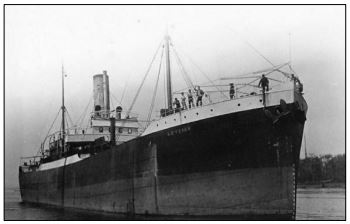 The Leysian was a 4,703 ton steamship taken into service as a prize of war by the British – 400ft x 52ft x 27ft (121.92m x 15.85m x 8.23m). She ran straight into the cliffs in poor visibility on 20th February 1917. The site today is suitable for all diving abilities lying in 8-16m of water, close to the cliffs and only around 600m from the beach and slipway. The site is in the shelter of Abercastle bay, protected from all but winds from the NW through to E, and diving is possible at most states of the tide.
* There will be a £10 per head / night deposit required when booking the camp site which will be refunded following the field school (providing you turn up for the period booked).
There is a branch participation list on the notice board. Contact John Rice for more Details.