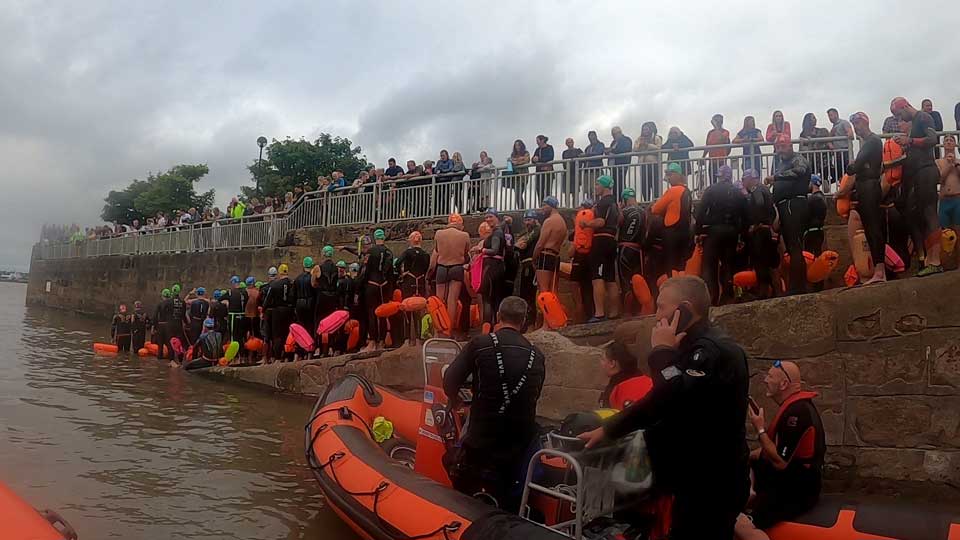 Branch 5 helped out last Sunday by providing three safety boats for this years Across the Mersey Swim. Both Club Boats, including the new 6.5m Humber, joined Club Chairman Alan Jones's boat and several other volunteer boats to provide safety and support for the event.

In the end all that was required was to watch as all 160 open water swimmers made the crossing without incident.
Starting at the Cockle Hole on the Liverpool side the swimmers headed off at the start of slack water aiming upriver towards the Cammell Laird shipyard on the Wirral side. Over the hour it takes most of the competitors to complete the course the changing current brings the swimmers in to the slipway at Birkenhead priory.

This year, the conditions were really good and many of the swimmers reached Cammell Lairds on the far side before the tide turned and had to swim down the Wirral side to the Priory. In the end all made it safely in. A great result for the organiser's and all the amazing swimmers who took part.